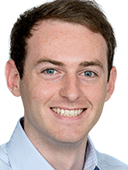 We welcome our new dentist, Christopher Williams, to both Marlborough and Hungerford practices. Christopher is Vernon Williams' son and qualified from Bristol in 2013. Chris takes over from Kasia in Hungerford and will also be seeing patients in Marlborough too; you may have already met Chris as he worked at our Marlborough practice during 2013.
When he is not working, he enjoys a wide variety of sports. He particularly likes watching Manchester United at Old Trafford. His highlight was being able to see the Olympics in London, where he saw Jessica Ennis, Greg Rutherford and Mo Farah in the Olympic stadium on super Saturday.
We all wish Chris the very best in his future at the practice.