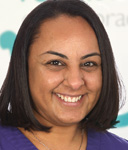 A big welcome to Amreeta Sanghera B.D.S who joins the practice as a new partner to Vernon and bringing her expertise in restorative and cosmetic dentistry.
Amreeta qualified in India and undertook her conversion exams in London at Guys and the Eastman in 2009. In 2010 she was asked to teach on the Overseas Registration Examination training course by the Royal College of Surgeons and was awarded an Honorary Lectureship in 2013. In the same year she also completed her MSc in Restorative Cosmetic Dentistry at the University of Central Lancashire.
Amreeta joined the Williams Dental Practice as a partner in October 2014 and is also trained in Botox and Dermal Filler treatments. She loves to travel – especially the USA – and wants to visit every state.